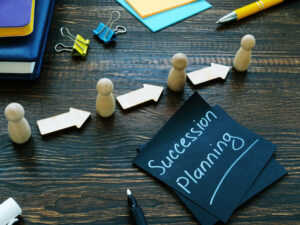 Small and mid-sized businesses are the backbone of our economy. According to data provided by the United States Small Business Administration (SBA), there are more than 965,000 small companies in Ohio. When you create a successful business, you have built something to support yourself, your family, and your community.
Passing on business interests to your heirs can present a challenge. It is crucial that you have a comprehensive, professionally prepared succession plan in place. In this article, our Northeast Ohio succession planning attorney highlights three reasons why you need a succession planning attorney to pass on a business to your heirs.
Succession Planning Helps Businesses Avoids Struggles During the Transition
At its core, business succession is about ensuring that you have the proper structure in place to pass your business on to the next generation. Whether you are leaving the company for retirement or focusing on other opportunities, navigating a transition can be difficult. An experienced Ohio business succession planning lawyer can help you create a system to ensure that your heirs are in the best position to thrive. Among other things, a comprehensive business succession plan will:
Identify the next generation of leaders and decision-makers.
Ensure that your heirs have the tools, training, and preparation they need.
Make sure that proper funding mechanisms are in place to continue operations.
Provide clarity to ensure that all interested parties share a vision and are on the same page.
Succession Planning Will Ensure that Your Finances are Protected
The sale or transfer of a business in Ohio can have major financial ramifications. A well-crafted business succession plan should account for all of these issues. When handled the right way, a succession plan can help you preserve personal and family wealth, including preparing for the tax consequences of any transaction. With business succession planning a proactive approach makes a tremendous difference. There are a number of different personalized strategies that small and family-owned businesses can use to protect and build their wealth.
Succession Planning Should Synthesize Personal Interests and Business Interests
For small business owners and other shareholders of closely held corporations, it is crucial that their business interests and personal interests are in full alignment with each other. When crafting a comprehensive succession plan for your Ohio business, you should also make sure that it is synthesized with your personal estate plan. An experienced estate planning & succession planning attorney can help you make sure that you and your heirs are properly protected.
Speak to a Business Succession Planning Lawyer in Northeast Ohio
At The Law Office of John C. Grundy, our Ohio business planning lawyer is a skilled, results-driven advocate for business owners and entrepreneurs. Effective business succession and business continuity planning begin early. If you have any specific questions about business succession planning, we can help.
Contact us today for a fully confidential consultation by calling 330-637-9030. The Ohio business lawyer at The Law Office of John C. Grundy offers a wide range of services related to business law for residents throughout Northeast Ohio, including in Cortland, Warren, Youngstown, and Niles.