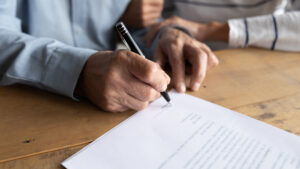 For most people, the primary residence is the single largest asset that they own. According to a recent report from the National Association of Home Builders (NAHB), homeownership is a key component of household wealth in the United States. A primary residence makes nearly half of the total wealth owned by the median homeowner in the United States.
With a home being such an important asset, it is crucial that people and families have the proper estate plan in place. There are steps that you can take to protect your home and the financial interests of your heirs. In this article, our Cortland estate planning attorney explains how proper estate planning can help to protect your home.
Estate Planning and Your Home: How to Prepare
When you are thinking about how to handle your home and your estate plan, it is essential that you take the time to clarify your specific financial circumstances and your objectives. There are a number of different issues and you need to consider/address, including:
Future of the Home: You should speak to your closest loved ones to determine if you are going to keep the home in the family or sell it.
Finances: Your home's value matters. This includes the potential sale price and any taxes that might apply.
Mortgage: If the home still has a mortgage on it, it is imperative that a plan is in place to meet all requirements on the loan.
Know the Estate Planning Strategies for Primary Real Estate
There are a number of different estate planning strategies that can be used to protect your home, save your estate/loved one's money, and ensure a smooth transition. Here are five potential ways to deal with a primary residence in an estate plan:
Co-Ownership: Add your heirs as co-owners on the property.
Will: Pass your home directly to one or more heirs through your will.
Revocable Trust: Put your home within a revocable living trust.
QPRT: A qualified personal residence trust (QPRT) is a specialized trust that can provide tax advantages in certain situations.
Sale: You may want to sell your personal residence ahead of time to better achieve your estate planning goals.
Every Situation is Different—An Estate Plan Should Be Personalized
An estate plan should be customized to meet the unique needs of you and your family. As everyone's financial situation and long-term goals are different, it is useful to sit down with a Cortland, OH estate planning attorney who can help you determine the best way to protect your rights. This is so whether you want to pass it down and keep it in the family or set it up for a sale in the future.
Contact Our Cortland, OH Estate Planning Lawyer Today
At The Law Office of John C. Grundy, our Ohio estate planning attorney helps people and families achieve security and stability. If you have any questions about how you can use estate planning to protect your home. Call us now for a completely confidential initial consultation. We provide estate planning representation to clients throughout Northeast Ohio, including in Cortland, Youngstown, Warren, Middlefield, Garrettsville, Columbiana and Alliance.