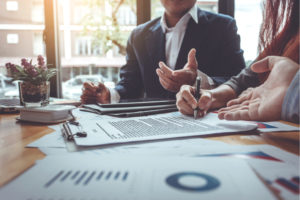 A written contract is a legal document that helps a business to set forth terms and conditions with the other party/parties. Contracts are legally enforceable in a court of law and serve as a tool for companies to safeguard their resources. Here are 3 essential contracts every business must have at their disposal.
Commercial Contract
A strong commercial contract and terms of use agreement serve as the foundation of the strong customer relationship. These commercial contracts come in various forms such as a statement of work, a service agreement, or a purchase or sales order, just to name a few. However, all of these documents contain two elements: business terms and legal concepts.
In most cases, business terms are simple and easy to comprehend for business people, generally specifying things like terms and conditions of work, duration of the contract, and payment terms. However, when it comes to legal concepts, these may be technical, may contain several complexities, and may give rise to a dispute.
Therefore, business contracts must be created, reviewed and curated by an experienced business formation lawyer to ensure that all parties have consensus. Moreover, if another party breaches the contract, it will shield the business client from potential losses and may help the client recoup its losses.
Operating Agreements and Bylaws
If your business is registered as an LLC, you will require an Operating Agreement. If your business operates as a corporation, then you will need Bylaws and a Code of Regulations. All of these documents set ground rules that protect the owners from a vast array of potentially adverse consequences.
One can find an abundance of sample operating agreements, Bylaws and Codes of Regulation on the internet; however, they may not cater to particular needs of your business and should be relied upon. Thus, it is critical that you hire a business formation lawyer with comprehensive knowledge of drafting such documents so that a reliable and meaningful document addressing the specific requirement of your business is created. For instance, a custom-drafted document may include language to address how much capital contribution should each partner make in the future; what happens if a partner quits, is rendered incapacitated, or dies; and how company's assets and liabilities are dealt in case of dissolution of the business; among other important matters.
Independent Contractor Agreement
A business cannot work in isolation and may require the assistance of different service providers to sustain their operations. Moreover, a company may hire different independent contractors to complete certain tasks. These contractors are not treated as employees as they carry their own equipment, insurance, and work for multiple entities, depending upon their capacity. They are also responsible for all the expenses associated with the services they offer.
Therefore, it is imperative that you set material expectations in terms of performance and payment conditions. An independent contractor agreement will help you to set terms which will protect your company against any potential liability and provide a legal shield in case of any disagreement or violation of the contract. If you have to share sensitive information pertaining to your business, you may also require a Non-disclosure Agreement to ensure that your important information remains confidential and safe.
An astute business formation lawyer can help your company to prepare a comprehensive contract which will cover a broad range of aspects to protect your company's confidentiality and legal rights. A well-curated document with no loopholes to exploit will also prevent contractors from breaching the terms of the contract as they will know that there will be adverse consequences of doing so.
If you wish to get further information regarding business law, contact the offices of John Grundy at 330-637-9030 to schedule a free consultation session with an experienced business lawyer.