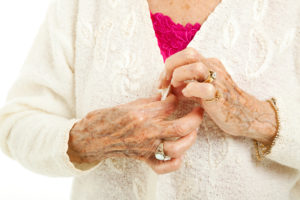 An "Activity of Daily Living" ("ADL") is a basic activity which an individual needs to be able to perform in order to live independently. There are various lists of these, but they are all short. There is general agreement that ADLs are concerned with personal hygiene, dressing, eating, maintaining continence, and "transferring." Very often the list includes:
Eating
Bathing
Dressing
Toileting
Transferring (moving from a chair or a bed to another chair or bed without assistance)
Maintaining continence (control of bladder and bowel functions)
ADLs are important because the Medicaid benefit which pays for long term care for adults requires that an adult must be incapable of at least two of these ADLs, or Medicaid is not available. A stand-alone diagnosis of Alzheimer's disease or dementia raises a presumption that the applicant for Medicaid is incapable of at least two ADLS, and therefore, satisfies this requirement.
In Ohio, the local Area Agency on Aging can conduct a "Pre-admission Screening and Resident Review" to determine one's ability to perform ADLs, and to assess the level of care required for one who is being admitted to an assisted living facility.
This discussion about ADLs, the PASRR and level of care are all related to the medical qualification component for individuals applying for the Medicaid long term care benefit in Ohio. Please contact the law office of John C. Grundy to discuss Medicaid qualification for your specific circumstance.